Oil Painting Master Series
Learn How to Paint with Oils
A Complete Course for Beginners
Start learning with a complete course that costs less than one art instruction book!
Check out a free preview or scroll down to learn more about the course
Get a Free Preview
Hi!
My name is Matt and I am an artist and teacher.
When I first started with oil painting, I was completely "lost".  I frankly had no idea what I was doing.  Even though I was in art school, my painting professors  really didn't show us how to use oil paint.  Instead, they assumed  that we already knew how to use it!  The problem was, of course – I had no clue!
 I found myself having to teach myself everything.
Of course, it took a lot longer to teach myself then it would have if someone would have just taken the time to show me the properties of oil painting.  I was an artist, but I struggled with oil painting, because everything was an experiment into the "unknown".
Unfortunately, I know that there are others that are experiencing the same frustrations that I did back then.
Looking back, I wish there had been some program that I could have used to just simply learn the basics.
The reality is that many painting programs make the same assumptions that my painting professors made back then - that you already know the basics.  They assume that you already know how to use the different brushes,  how to blend oil paint, mix warm and cool variations of colors, stretch and prime canvas, create under paintings and so on.
Recognizing a need for a oil painting program for beginners, I teamed up with my good friend – professional oil painter and teacher, Ashley Bane Hurst.  We worked together to create a comprehensive video course that covered all of the basics of oil painting.
The result is the 19 module video course - The "Oil Painting Master Series".
(Watch the video to learn more about the course)
About the Course
The 19 module course provides an overview of the medium of oil painting and covers the concepts of materials, pre-painting fundamentals, blending oil paint, creating an underpainting, indirect and direct painting, Impressionist painting, non-traditional painting, portraiture, painting on a toned ground, painting clouds, wet into wet, knife painting, and more.  The course is structured with a logical progression, so that each lesson builds upon the last.  NO assumptions of prior knowledge or experience are made.
200 Minutes of Video Instruction
"Oil Painting Master Series" features over 200 minutes of video instruction.  That's over 3 hours of video.  The High Definition videos are carefully edited to show you each important step of the processes involved.  There is no "speed painting", or time lapse.  Each demonstration is narrated, explaining the reasons behind the action – almost like a private lesson.
Ebooks Are Included
Not everyone learns from watching videos, so ebooks are included with the lesson modules.  There are 17 total ebooks included with the course that total 114 pages with 405 color illustrations.
Here's What You'll Learn in This Course…
How to choose the right materials, their properties, and how to use them in oil painting
How to prepare a support – boards, stretching, and preparing canvas
How to layout your palette and mix complex colors
How to make your own oil paints from pure pigment
Pre-painting fundamentals
The secret to blending oil paint to create smooth transitions of value and color
How to create an underpainting
How to glaze color over an underpainting using the "Old Masters" technique
How to paint directly using observed colors
How to paint on a toned surface to create dramatic contrast
How to paint folded cloth
How to paint realistic clouds
How to paint a representational portrait
How to paint Alla Prima (Wet into Wet)
How to use a knife to create Impasto effects in a painting
How to paint as an Impressionist
How to approach a Non-Traditional painting (Non-Objective, Abstract)
The secrets to creating reflection and transparency with oils
Downloadable Content
All of the content is available to download to your computer, tablet, or mobile device.  Once downloaded, you can watch the videos without an internet connection or burn them to a DVD to watch on your TV.
Mobile Compatible
All of the content featured in the course is mobile compatible.  The videos will play on any smart phone or any tablet.  Take the course with you wherever you go.   Or better yet, work from the modules at your easel.
After all, the computer desk is not the location for your easel or your oil paints.
60 Day Money Back Guarantee!
If you are not completely satisfied with the course after you purchase, simply contact me and I will be more than happy to refund your purchase – no questions asked!  You can essentially try the course out for 60 days risk free.  I'm sure you'll find that it helps you out, but if it doesn't, you're completely covered.
Meet The Instructor
Ashley Bane Hurst is the Visual Art Department Chair at a public arts magnet school. He received his B.F.A. in 2002. Since that time Ashley has participated in numerous shows, executed figure paintings and portrait commissions in oil paint, pastel, charcoal and sepia and been recognized in the national Arts for the Parks contest for landscape painting. Ashley has also completed freelance illustrations and designs for production. Ashley enjoys creating a variety of art but he enjoys seeing others grow in their own art just as much. He has been teaching drawing and painting for ten years in the classroom and is excited about sharing his instruction through OilPaintingMasterSeries.com. He currently resides in North Carolina, USA with his wife Nicole, two children, Ruby and Roman, and their dog Chloe (she's French).
Ready to Get Started?
Click on the "Get Started" button to start learning how to paint with oil paints right now for only $29.99.  There is absolutely nothing more to purchase ever.
Once your secure payment is accepted through ClickBank.com, you'll get instant access to the course.
Questions? Contact Me
*By purchasing the course, you are agreeing to the terms and conditions.
HD Video
Over 200 minutes of HD video instruction on the basics of oil painting.
Ebooks
17 Full color ebooks that accompany each video that total 114 pages with 405 illustrations to help you learn completely.
Downloadable Content
Download all of the content.  Put the videos on DVD, your tablet, or other device to watch from home or on the go without an internet connection.
Money Back Guarantee
30 Day Money Back Guarantee!  Try it risk free. Not only is the course affordable, but if you're not happy – you get your money back!
A Glance at What You Get With The Course…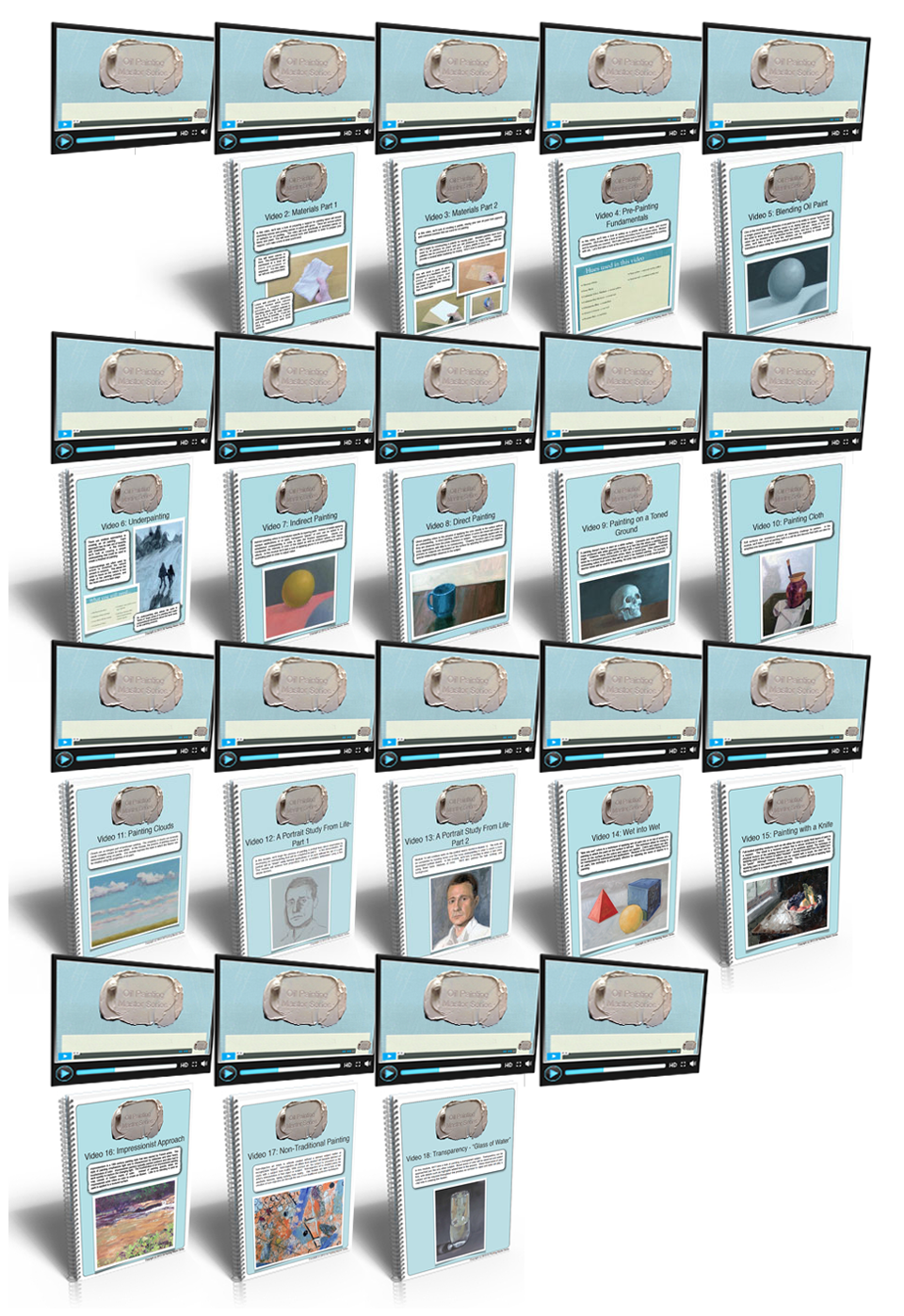 Special Note: Oil Painting Master Series  is not a physical product. All products are downloadable and are available via a computer. Files are PDF and .m4v. Videos may be downloaded or streamed. All videos are High Definition (720p).
ClickBank is the retailer of products on this site. CLICKBANK® is a registered trademark of Click Sales, Inc., a Delaware corporation located at 917 S. Lusk Street, Suite 200, Boise Idaho, 83706, USA and used by permission. ClickBank's role as retailer does not constitute an endorsement, approval or review of these products or any claim, statement or opinion used in promotion of these products.